The conversion rate gap is not being talked about enough, it's almost like the industry wants to neglect it!
To refresh, In-store converts at around 40% while eCommerce only at 2%. The reason that this gap exist is because the customer goes through an entirely different buying process online vs offline.
In a physical retail shopping environment, there will be sales assistants there to guide customers through to recommended products according to their needs.

Where online, customers have no choice but to browse confusing product ranges with even worse navigation menus by themselves, virtually no support.
The eCommerce industry needs a solution that can help guide customers to purchase a product they actually need, without showing irrelevant products.
Guided Shopping
Wouldn't it be great if every customer had their own personalised virtual sales assistant helping them understand your products seamlessly?
This is exactly what Preezie does, we believe the online shopping experience should be the same as in-store!
You might be wondering whether customers would want to be guided when shopping online, and the reality is that they do!
Here is some data that we collected from Blue Bungalow, one of our booming clients ;)
Your customers need guidance
You might want to read our previous blog about what is guided conversion and why eCommerce managers should care.
This is what guided conversion can look like in an eCommerce environment.



As customers go through this workflow, aside from skipping navigation problems, the platform will run through all the prompts that customers selected and generate a set of product recommendations that they want to see.
What this does is eliminate the choice paralysis, confusing navigation, and poor user experience.
Other than displaying the workflow in Blue Bungalows home page, customers can access the workflow in a few other ways, such as, call to actions, collection pages, and Exit intents!
Call to actions
The outfit finder button always sits on the corner of the page, waiting for a customer to engage with it.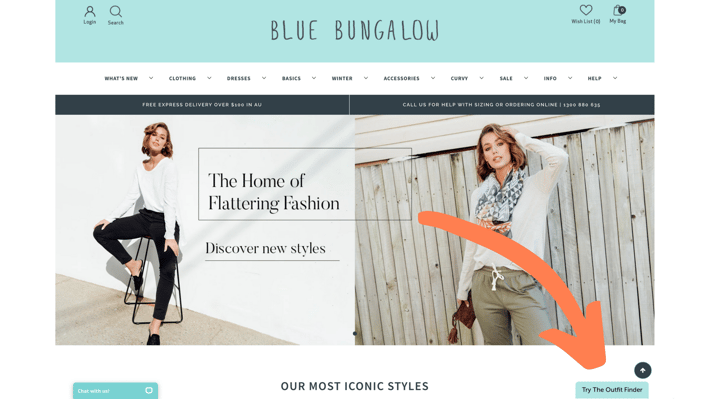 Whenever the button is clicked, the store will show a workflow similar to what they have on their home page.
Exit Intents
Forget all those annoying exit-intent discount pop-ups. Instead, help leaving customers find their perfect products!
50% of users leave a site because they can't find the right product quickly and easily.
Giving discount pop-ups and promo codes are just not enough to capture leaving customers!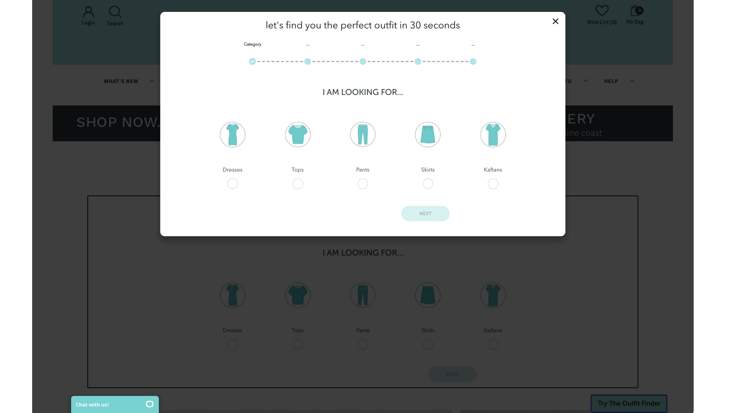 Blue Bungalow provides leaving customers with its outfit finder to help them find the right outfit for them.
Product categories
Some customers know what type of outfit they are getting from Blue Bungalow.
But dresses come in different styles, fits, colours, fabrics, etc, and getting through hundreds of dresses is confusing.
The dress recommendation workflow will eliminate all the confusion.
Not only do these workflows improve customer experience but they make money!
We compared the differences between users who use and don't use the Preezie workflows and the results speak for themselves.
Blue Bungalows' conversion rate increased by 3.4x.
Further to that the systems exit intent alone generates approximately 30% of the Preezie's total system starts and transactions.
From exit intents and Call to Actions, the system was able to capture confused/leaving customers and generate significant amount of revenue.
Strictly speaking and looking at the data we can are more than confident to conclude that shoppers actually want to be guided when shopping online, and using these workflows allow eCommerce stores to unlock their true sales potential.
Just so you know, Preezie's guided conversion platform suits any type of industry, as long as "Increasing sales" and "Increase Conversion rate" is on top of their agendas!

Other articles you might be interested:
Why eCommerce product discovery sucks and how you can fix it!
Preezie's Product Recommendation Engines Explained - Filters vs Algorithms.